Indómita Winery
The spirit of the elegant Indómita Winery with the imposing structure, constructed high on a hill overlooking the Casablanca Valley, is present in all of their wines. Indómita is one of Chile's leading wineries, thanks to modern vinification technology and its vast selection of vineyards and grapes.
---
INDÓMITA DUETTE
Duette reflects the two valleys in which Indómita has its vineyards. This line of Premium wines is extremely elegant, distinctive and shows the perfect balance between the natural conditions like terroir, soil, water, and temperature with wonderful colors, aromas, and consistency.
Cabernet Sauvignon – Carmenere – Maipo Valley
This wine has a wonderful red-purple color. Complex aromas crowned by red ripe fruits. The wine has an extraordinary taste and is
well-rounded with plenty of fruit flavors. Its velvet texture combines well with the sweetness of the oak barrels. It has a long and persistent finish. It is an extraordinary blend of two wonderful varieties.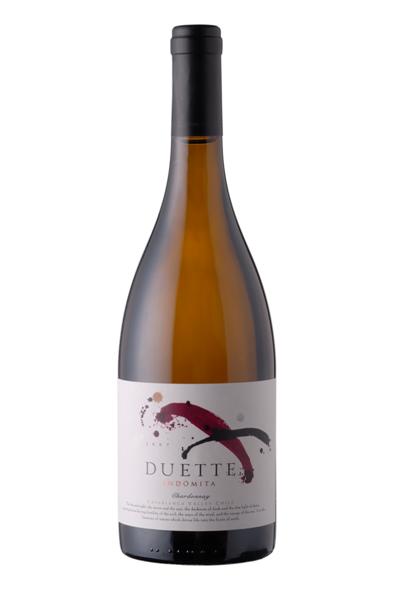 Chardonnay – Casablanca Valley
A wine with bright colors of gold and honey and aromas of pears, watermelons and nectarines. On the palate, the wine shows the complexity and flavors of oak ageing as well as well rounded, creamy Chardonnay character. An elegant wine that is fresh and balanced.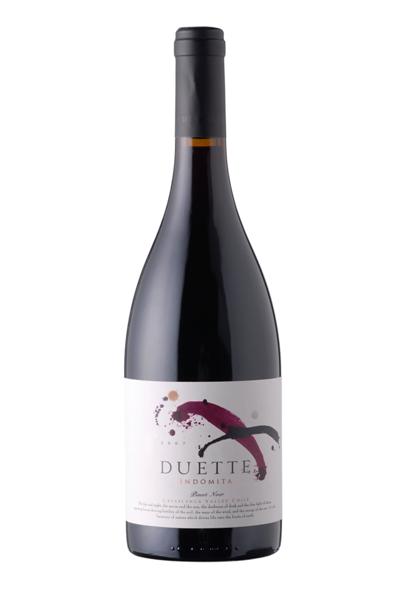 Pinot Noir  – Casablanca Valley
A gem of the Casablanca Valley, this wine is medium red with violet highlights and aromas of ripe fruit and flowers. Barrel ageing imparts complexity, compliments the varietal character of the grape and balances the flavors into a profound expression of this valley.
---
INDÓMITA GRAN RESERVA
The Reserva wines are produced with some of the best handpicked grapes coming from select vineyards in the Maipo and Casablanca valleys. Indómita Gran Reserva wines are very elegant and distinctive. These wines are matured in oak barrels for 8 up to 12 months.
Cabernet Sauvignon – Maipo Valley
Chile is well known for outstanding Cabernet Sauvignon. This is a perfect example of the best Chile has to offer. A symphony of flavors and aromas that blend into a perfectly balanced, flavorful well rounded red wine. Tannins and fruits combine to create a soft and harmonious wine.
Carmenere – Maipo Valley
A dark red wine with violet tints and aromas of wild black berries, black currants, blueberries and truffles. Carmenere's herbal and spiced personality is tempered by soft and pleasant flavors to create a flavorful and fleshy wine.
Chardonnay – Casablanca Valley
This wine has a bright golden color with aromas of creamy tropical fruits. Made from hand-picked 100% chardonnay grapes from the Casablanca Valley, the wine benefits from the proximity to the Pacific Ocean and the Andes Mountains. Pleasant, full and drinkable, this wine offers a great price quality ratio.
Pinot Noir – Casablanca Valley
Made from hand-picked grapes from the Casablanca Valley this wine has aromas of flowers, berries and tobacco. Harmonious and smooth on the palate this grape is perfectly suited for the micro climate in this valley. It offers outstanding value for a world class grape variety.
Sauvignon Blanc – Casablanca Valley
The Casablanca Valley is best known for the wonderful Sauvignon Blanc that is produced there. This wine has an aroma that hints of
jasmine and orange leaves along with green apples and fresh grass. On the palate it is alive yet smooth and balanced with a vibrant concert of delicious ripe fruit flavors.
---
INDOMITA RESERVA

Indomita Pinot Noir Reserva
This beautiful red pinot noir is a special wine with a delicate profile but filled with edges. It is an elegant wine with almost imperceptible notes of red fruit and dried cherries that slowly grow in prominence. It has a fine, restless, and attractive texture with a fresh and seductive character-an unforgettable wine.
---
INDÓMITA VARIETALS
Indómita varietal wines are produced from the best grapes in the central valley. The varietal range includes Cabernet, Sauvignon, Carmenere, Chardonnay, Merlot, and Sauvignon Blanc.
Cabernet Sauvignon
A ruby red wine with berries and ripe red fruit aromas. This wine exhibits robust varietal character, is pleasant and flavorful with a lingering finish. Enjoy with red meats, stews and cheeses. (Alc. 13% by Vol.)
Chardonnay
This wine has a golden yellow color with green tones and an aroma of tropical fruits with hints of mandarin, pear and nectarines. In the mouth, it feels very fresh, with a deep and good acidity and a pleasing and smooth finish. Young and balanced. Serve this pleasant, and flavorful wine with salad, pasta, white meat and seafood. (Alc. 13% by Vol.)
Merlot
This Merlot has an intense and bright red violet color with a well defined aroma of red ripe fruit with hints of plum and blackcurrant. This wine has ripe flavors and is well-balanced. Rich in tannins, with a medium finish. Enjoy with red meats, stews and cheeses. (Alc. 13% by Vol.)
---
INDÓMITA 187 ML VARIETALS
ndomita varietal wines are produced from the best grapes in the central valley. Now Indómita Cabernet Sauvignon, Chardonnay and Merlot are available in the 187 ML bottle.
Cabernet Sauvignon
A ruby red wine with berries and ripe red fruit aromas. This wine exhibits robust varietal character, is pleasant and flavorful with a lingering finish. Enjoy with red meats, stews and cheeses. (Alc. 13% by Vol.)
Chardonnay
This wine has a golden yellow color with green tones and an aroma of tropical fruits with hints of mandarin, pear and nectarines. In the mouth, it feels very fresh, with a deep and good acidity and a pleasing and smooth finish. Young and balanced. Serve this pleasant, and flavorful wine with salad, pasta, white meat and seafood. (Alc. 13% by Vol.)
Merlot
This Merlot has an intense and bright red violet color with a well defined aroma of red ripe fruit with hints of plum and blackcurrant. This wine has ripe flavors and is well-balanced. Rich in tannins, with a medium finish. Enjoy with red meats, stews and cheeses. (Alc. 13% by Vol.)
---