KEGS ARE NOT ONLY FOR BEER ANYMORE!
NEW 20-LITER DISPOSABLE WINE KEGS
BARS, HOTELS AND RESTAURANTS
Bars, hotels and restaurants are requesting wines in disposable Kegs, and with good reason – the wine stays fresh for months after opening. A bar owner can keep several wines on tap, since there is no more oxidation loss.
Extra convenience and speed
Hospitality outlets have come to appreciate the KeyKeg's light weight and the extra storage space it frees up.
                                                  One 20-Liter Keg = 26.5 (750 ml) bottles of wine.
You do not have to open, pour and discard bottles!
WINES BY THE GLASS
Premium Wines
Not surprisingly, more and more premium wines are becoming available in kegs. Dispensing wine from a keg is simple. The KeyKeg fits every dispensing installation, using the KeyKeg coupler.
Sparkling Wines
KeyKeg is resistant to high pressures, making it an excellent choice for storing and dispensing sparkling wines. The cylindrical KeyKeg's Double Wall™ technology makes it suitable for wines with higher CO2 concentrations.
Still Wines
KeyKeg is also excellent for premium still wines. More and more winemakers are selling their premium wines in KeyKegs.
---
DISPENSING
Wine dispensing systems
A KeyKeg can be used with any conventional beer dispensing system using the KeyKeg coupler. Some people opt for dispensing with equipment designed specially for wine. The standard stainless-steel KeyKeg coupler is designed for dispensing wine.
KEYKEG COUPLER

The KeyKeg coupler with integrated safety valve connects KeyKeg to your existing dispensing system. It is designed for KeyKeg's unique feature: separation of the propellant gas from the beverage. Every coupler is delivered with a deflating tool and a bar instruction card.
ADVANTAGES FOR YOU
• Better wine-by-the-glass means enthusiastic customers who increase your sales
• Fits your existing dispensing system using the KeyKeg coupler
• Recyclable and environmentally friendly
• Can use compressed CO2 or O2 for dispensing
• One 20 Liter – KeyKeg replaces 26 (750 ml) wine bottles
• Less waste on trash day
• KeyKeg saves storage space
• KeyKeg is much lighter than steel kegs
• KeyKeg does not waste a drop
• Your wine stays fresh much longer
ENVIRONMENT
One 20 liter keg replaces 26.5 (750ml) bottles.  The KeyKeg was designed with the environment in mind, and is fully recyclable. It exceeds the major environmental standards. Moletto kegs are already partly made from recycled PET. The entire Moletto KeyKeg is recyclable.
---
MOLETTO WINES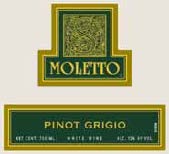 Moletto Pinot Grigio
 This straw colored wine has set the standard for the Moletto line for the past two decades. It is perfectly balanced, crisp and fruity white wine. You will find it difficult to find a better Pinot Grigio although you will find many that are more expensive. (Alc. 12% by Vol.)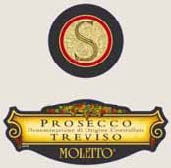 Moletto Glera – (Prosecco grape)
Glera is our most versatile wine and continues to be our fastest rising star. This sparkling wine shows frank and brilliant tones of pale straw yellow. Its bouquet is subtle, but well defined with a clear hint of fruit. Semi-dry and fruity, cheerful, lively and full of character. (Alc. 12% by Vol.)
SAN AMADEO KEGS – Lodi
                                                                                                   SAN AMADEO CHARDONNAY
This chardonnay is succulent and crisp. Flavors of pear, tropical fruit and pineapple add to this bright varietal. Floral notes create a well-balanced wine with a full body.
Fermentation/Aging: Chardonnay stored in stainless steel tanks is blended with the wine stored in medium toast, American and French oak barrels, producing moderate tannins that combine with tropical fruit flavors yielding complexity and full body.
Food Pairing: Chicken, salmon, talapia, duck, pizza, green salad, and pastas. (Alc. 13% by vol.)
                                                                                                    SAN AMADEO CABERNET SAUVIGNON
This cabernet sauvignon contains ripe, dark fruit, smoke and vanilla notes with full – bodied sweet fruit and a creamy texture.  Softer tannins and refined tones of blackberries and cherries finish on the palate.
Fermentaton/Aging: 70% American Oak, 30% French Oak
Food Pairing: Beef, pork, grilled meats and cheeses. (Alc. 12.5% by vol.)