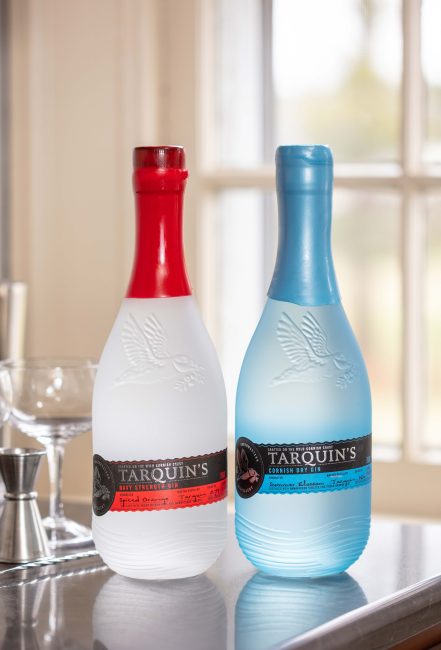 Tarquin's Cornish Dry Gin is made in Cornwall, UK.
It recently won a Double Gold Medal at the San Francisco World Spirits Competition 2022, as well as a Gold Medal at the International Wine & Spirits Competition IWSC in London in 2022.
"Great typicity with a complex flavor profile and well-integrated alcohol. Fresh juniper and floral aromas lead to warm cedar and green pine notes that carry well across the palate. Wood spices add warmth and the length is long. A well-crafted spirit." IWSC
It is 100% handmade (by Tarquin and his wife)   using a fire-heated copper alambic (Tamara) which can produce just as few as 300 bottles in one batch.
The special botanicals are such as the handpicked Devon violets and fresh orange zests deliver an  aromatic sensation unlike any other. Only the best and most pure spirit makes it into Tarquin's Gin, which is diluted to bottling strength at 42% with Cornish spring water. The result is a fresh Gin that tastes best with a wedge of grapefruit and a dry Tonic water.
Tarquin's Navy Gin 
The Cornish Navy Gin is distilled with 12-hand selected botanicals including fresh citrus peel and hand picked violets. It's distilled in small batches in four copper pot stills.
TASTING NOTES
Appearance—Crystal clear just waiting to be poured.
Alcohol by Volume— 57%      Proof—114
Taste—Big, bold and beautifully balanced. An initial hit of warm, earthy spice with crisp     juniper. Fragrant coriander and rich cinnamon follow, with a bright hit of zesty orange    sherbet to round everything off.
Nose—Juniper on the nose with a hit of cracked black pepper. Hints of spiced cinnamon and coriander follow with notes of fresh, zesty citrus peel.
Finish—Very full bodied with a creamy feel. Spicy tingle to the front of the tongue. Superbly smooth, well integrated alcohol content. One to be savored—a real sipping gin.