AMARETTO LAZZARONI 1851 & FAMILY LAZZARONI HISTORY
Amaretto was first a cookie made by the Lazzaroni family. According to legend, in 1718 the Cardinal of Milan was visiting the town of Saronno. In honor of his visit, Giuseppe and Osolina Lazzaroni baked a mixture of sugar apricot kernels and egg whites and created a new cookie named "Amaretti di Saronno".
In 1846 one of the brothers, Paolo, started a new company – Paolo Lazzaroni & Figli – dedicated to the production of liqueurs and food specialty items such as chocolates.
In the meantime, the Lazzaroni cookie company expanded its range of cookies to include – the hard crunchy Amaretti; the soft cookie and a new liquid Amaretto cookie. To accomplish this, they developed a new recipe, which starts with the crushing and refining of the Amaretti di Sarrono cookies, then infusing the cookie powder into alcohol for six months. Today, this liqueur is known as Amaretto Lazzaroni 1851. Since its origin, it was marketed as a liquid cookie rather than a liqueur.
Today, Amaretto Lazzaroni 1851 is still made according to original recipe and is the only liqueur made from the infusion of the famous Amaretti di Saronno cookie. The cookie company grew and became known as one of the most famous around the world for its high quality products. The cookie division was sold in 1984 to an American company– Campbell's Soup Company.
In the early 1990's, Paolo Lazzaroni, named after his great-grandfather, built in Saronno a new plant for the production of the Amaretto Lazzaroni 1851 and other cordials such as Sambuca.
In February 2004 the Amaretti di Saronno cookies were repurchased and returned to the Lazzaroni family. Today the Lazzaroni family is considered the Amaretto specialists.
---
LAZZARONI AMARETTO
The Authentic Italian Amaretto since 1851, is still produced and bottled in Saronno, Italy, according to an old and unique formula: the infusion of the famous cookies "Amaretti di Saronno" in alcohol.
This premium product with a rich Italian heritage has a almond/apricot flavor. Alc. 24% by Vol.  Available in 750 ML, 50 ML and 1 L.
Original Use
Enjoyed mid-afternoon neat, in place of cookies
Current Use
After dinner cordial
Craft cocktail mixology
Amaretto Sour
Review – 93 Points – International Review of Spirits – Gold Medal – Exceptional
"Brilliant copper color. Complex and subtle aromas of marzipan, dried fruits, star anise and cola nut. A smooth, velvety entry leads to a mildly sweet full body of roasted almond, marzipan, dried citrus, and complex brown spice flavors. Finishes with a long, lingering meringue, pink peppercorn, and almond fade. Great purity, complexity and style."
---
LAZZARONI SAMBUCA
The original recipe from the 1800's called the liqueur – Anisette. Today, Lazzaroni Sambuca is produced according to this old formulation. This liqueur is sweet, and velvety, thick and oily with intense and delicate flavors, with an alcohol content of not less than 38% Alc. by Vol. Lazzaroni Sambuca is transparent and colorless. Upon contact with the palate this liqueur remains smooth.
Original Use
After dinner liqueur
Current Use 
Ingredient in many cocktails
Traditionally added to coffee
Straight shots with coffee beans
Review – 93 Points – International Review of Spirits – Gold Medal – Exceptional
"Star anise aromas have a hint of wild berry bush and a long, penetrating, and warming and pure star and wet mossy limestone finish. Great purity and dimension."
---
LAZZARONI LIMONCELLO
This all natural Lazzaroni Limoncello is still made today according to a century old recipe – through the infusion of lemon peels into alcohol. This Italian liqueur is produced from fresh peels of the finest lemons in Italy with no added colorants. These lemons are selected for their well-balanced flavor.  (Alc. 26% by Vol.) Available in 750 ML, 1 Liter and 50 ML.
Original Use
Liqueur
Current Use
Ingredient in many cocktails
Craft cocktail mixology
Ingredient in fruit salads and fruit cakes
Reviews – 91 Points – International Review of Spirits – Gold Medal – Exceptional
"Hazy golden yellow emerald color. Bright aromas and flavors of lemon zest and oil with a satiny, tangy, fruity sweet medium-to-full body and a warming, nuanced, long finish with notes of honey and lemon gelato. A sensationally vibrant and pure limoncello."
---
LAZZARONI MARASCHINO
The production of "maraschino liqueur" began in Zara during the Middle Ages. The oldest recipe dates back to the sizteenth century.
Lazzaroni Maraschino is made from the Marasca Cherries, including the pits that are crushed to give the liqueur a subtle bitter almond flavor.  The Marasca cherry is a small cherry that is dark with a bitter taste and dry pulp. The liqueur is clear and relatively dry.  Lazzaroni has been producing Maraschino since 1860.  (Alc. 24% by Vol.)
Original Use
After dinner liqueur
Current Use
Ingredient in many cocktails
Topping for fruit salad
Ingredient in cakes and baked goods
Reviews – 97 Points – International Review of Spirits – Platinum Medal – Superlative
"Copper color. Attractive complex aromas of cherry bubblegum and cordial, circus peanut, floral jasmine tea, and delicate spices with a satiny, bright, moderately sweet medium-to-full body and a warming, involved, medium-length citrus cream, pepper, orange blossom honey, and pistachio brittle finish. A delicious and elegant fruit liqueur."
---
LAZZARONI AMARO
According to the Lazzroni recipe book, Lazzaroni Amaro was first prepared in the late 1800's. Today it is still being prepared according to this old family recipe.
This is a delicious natural liqueur made with the infusion of traditional herbs, roots and berries from the Alps.
This liqueur can be enjoyed straight, on the rocks or with club soda with a twist. Try this authentic Italian after dinner liqueur.
Original Use
Liqueur
Current Use
Ingredient in many  cocktails
Digestif
Review – 94 Points – International Review of Spirits – Gold Medal – Exceptional
"Brown color. Rich aromas of peppermint oil, cola and baking spices with a satiny, lively, moderately sweet medium-full body and a warming, complex, very long bitter roots and herbs, pine, pepper, and honeyed grapefruit finish. A sensationally drinkable minty Amaro."
---
LAZZARONI FERNET
This is a strong bitter liqueur made by the prolonged infusion of many different herbs and spices.
This liqueur is traditionally served at the end of a meal. It aids in digestion and cleanses the palate.
In recent years, many have served Fernet on the rocks, with cola, fruit juices, grenadine, or with mineral water. (Alc. by Vol. 40%)
---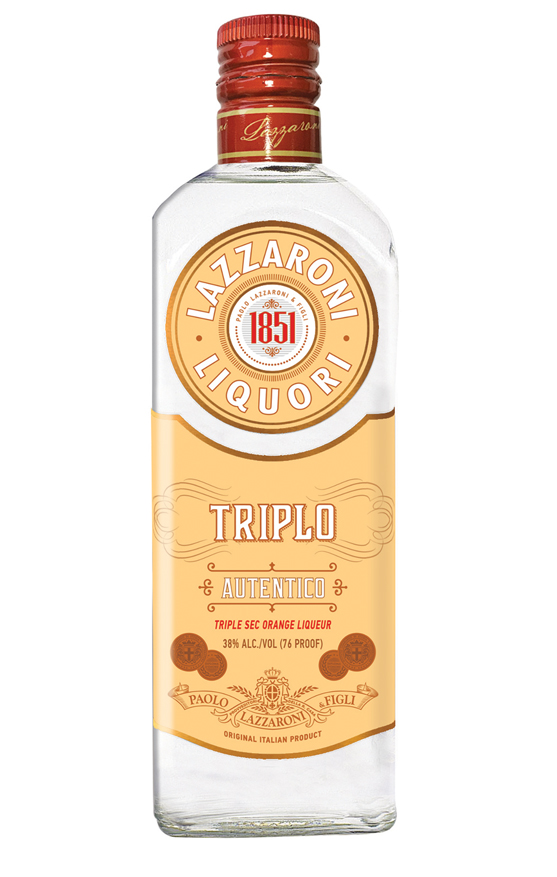 LAZZARONI TRIPLO – Triple Sec Orange Liqueur
Triplo is a strong, sweet and colorless orange flavored liqueur. It is the sweetening/flavoring agent used in many popular cocktails.
Kamikazes, Cosmopolitans, Margaritas, Long Islands, and Mai Tai cocktails are a few of the known drinks that use Triple Sec Orange liqueur as an ingredient. (Alc. By Vol. 38%)
---
LAZZARONI INFINITO
Lazzaroni Infinito is a black Italian liqueur based on Sambuca, created through the infusion of green anise seed with various spices. It is purplish black in color an aroma of anise.
Drink neat or chilled on the rocks. Lazzaroni Infinito can be used as an ingredient in cocktails, in coffee and over vanilla gelato. (Alc. 38% by Vol.)
---
LAZZARONI AMARETTO CHERRIES
These gourmet cherries from the Apulia Region in Italy are flavored with Lazzaroni Amaretto. These ruby red candied cherries are a great addition to your favorite cocktails. Each whole pitted cherry has a sweet-tart flavor that will enhance any Manhattan. It also tastes great when spooned on ice cream!
Lazzaroni Cherries are available in 400g jars and 3.3 kg cans.
---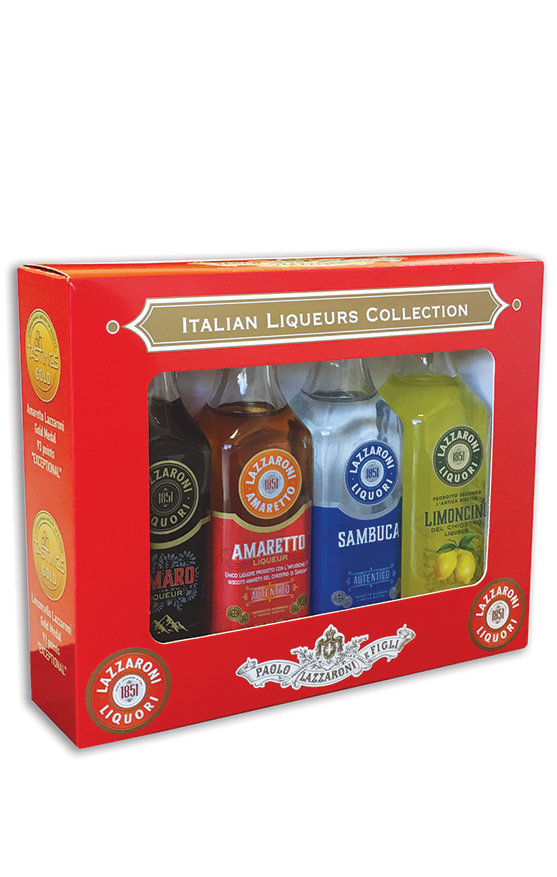 Lazzaroni Italian Liqueur Collection – 50 ml
Lazzaroni introduced a miniature collection of their award winning Italian liqueurs, enclosed in a gift box.
The collection includes the following Gold Medal winners:
Lazzaroni Amaretto – 93 points – Gold Medal – International Review of Spirits
Lazzaroni Limoncello – 91 points – Gold Medal – International Review of Spirits
Lazzaroni Sambuca – 93 points – Gold Medal – International Review of Spirits
Lazzaroni Amaro – 94 points – Gold Medal – International Review of Spirits
View Lazzaroni Cocktail Recipes
---